ACF Annual Report details £1.7m spent on 90 projects
Full details of 2020-21 grants published in ACF Annual Report
64 suppliers, 320 radio stations, 420 hours of content, 14.5m listeners
74% of recipients based outside of London, with broadcasts in all four nations
Two additional members added to the ACF Independent Funding Panel for 2021
The Audio Content Fund has today released its second Annual Report, which provides a detailed breakdown of the £ 1,704,431 it distributed to 90 public service radio projects in 2020-21.
The report outlines how the fund, which is financed by the UK Government, supported 64 different UK independent production companies, to produce 420 hours of content, for broadcast on 320 different commercial and community radio stations.
An audience of 14.5m listeners is expected to hear the content, which covers factual, drama, comedy, live discussion, children's, sport and current affairs material.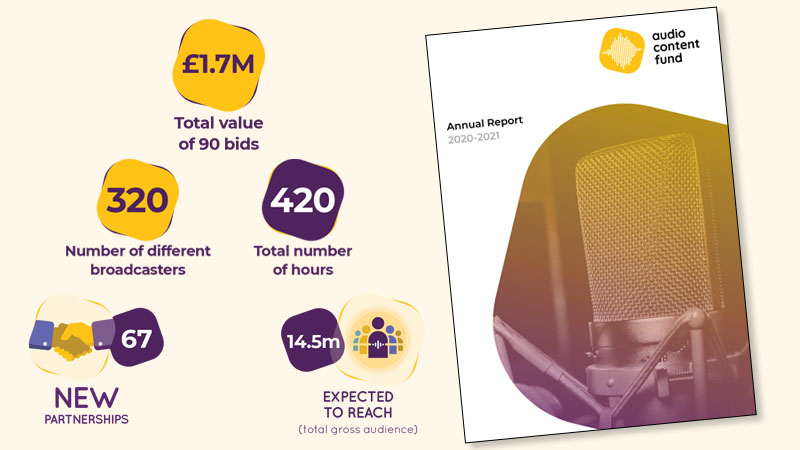 ACF funding has created unique opportunities for indies to work with commercial and community radio, with 67 out of the year's 90 projects representing new business relationships between suppliers and broadcasters.
Three-quarters of the funded projects were produced outside of London, with content created for broadcast in all four nations of the UK, and 20% of the projects were primarily focused on BAME, LGBT, or disabled narratives and perspectives.
The report outlines how the year's grant budget was increased from £1m to £1.7m, as additional funds were provided by the government to support audiences during the coronavirus pandemic. More than 60 projects are profiled in detail, with a further 30 projects still to be produced.
Managing Director of the Audio Content Fund, Sam Bailey, said he was "immensely proud that the UK radio and audio sector were able to mobilise so quickly, enthusiastically and effectively to support audiences with such extraordinary creativity. While 2020 will forever be remembered as the year of pandemic lockdowns, I know that many will also remember the incredible content they heard on their radios when they were stuck at home."
Sam Bailey also announced that the Audio Content Fund was enlarging its independent decision-making funding panel, adding two additional members to handle the growing volume of bids the fund receives, and to add further breadth of knowledge and experience to the group. Adam Uytman, a freelance audio consultant originally from Scotland, was formerly Director of Content at Listen, an Editor in BBC Popular Music, and Programme Director at XFM and Kerrang! Radio. Rob Littlejohn is a freelance radio exec working with Apple Music 1, having spent 20 years in production roles at BBC Radio 1Xtra. The two new members will join Chair Helen Boaden, and panellists Kate Cocker, Mukti Jain Campion and David Lloyd to form a panel of six.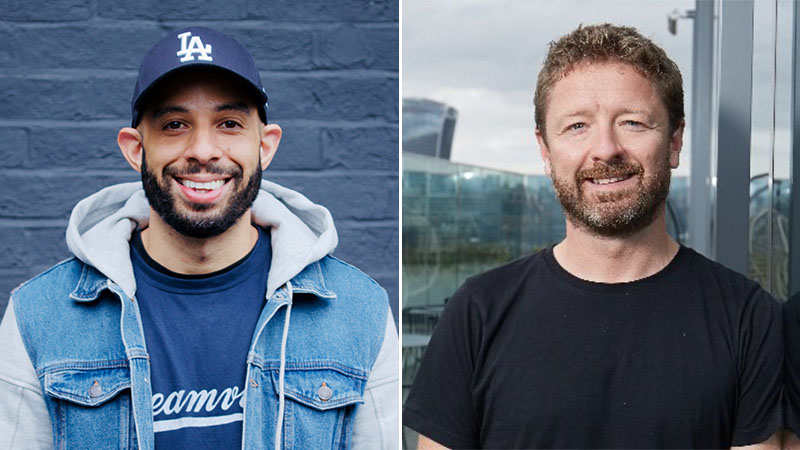 Reflecting on the past year, Helen Boaden noted that "in 2020, we all needed connection like never before" and that connection is radio's superpower. She went on to say the panel "were bowled over by the quality and ambition of the proposals and the hard work which went into getting them on air quickly. We wanted ideas which could inform, amuse, console, uplift and bring humour and entertainment to millions of listeners facing an unprecedented situation. We were not disappointed."
John Whittingdale OBE MP, Minister of State for Media and Data, said: "Through the pandemic we have seen how radio can be a force for good in bringing people together and the Audio Content Fund's continued strength is testament to people's desire for diverse, informative and entertaining programming. Today's report shows the continued vibrancy of our radio and audio sectors and the fund's role helping so many successful projects covering the UK's different perspectives."
Tim Wilson, who leads on Policy and Regulation for AudioUK and is a Director of the Audio Content Fund, said: "The ACF has had an extraordinary year in which its public value was recognised by the government's awarding of extra funds to help the nation through the pandemic and also specifically its effects on mental health. Independent production companies have risen to the challenge of putting through additional creative ideas and worked with commercial and community radio to deliver some really landmark programming. As we look to securing the Fund's future beyond the three-year pilot, we can safely say its track record makes a very strong case for its continuation."
Matt Payton, COO of Radiocentre, and a Director of the Audio Content Fund, said:
"The first two years of the ACF have been a remarkable success. It has enabled commercial radio to provide an even greater range of high-quality and distinctive programmes for all kinds audiences across the UK. The pilot scheme has shown beyond any doubt that contestable funding can be effective, efficient and deliver great outcomes for audience. Long may it continue."